The Requirements
As Call Center Intake Representative you'll need the flexibility to work any assigned shift between 7 a.m. and 7 p.m., Monday through Friday. Typically, you'll begin with a 8:30 a.m. to 5:00 p.m. training shift, which may be modified once you are fully acclimated, based upon company needs and available openings.
Quick question for you - click here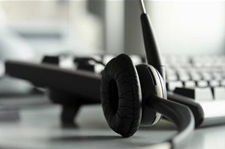 To be a strong fit for the Call Center Intake Representative role, you will need:
A high school diploma or GED equivalent
Excellent written and verbal communication skills, including active listening skills
Computer literacy, including:

The ability to type 40+ wpm with accuracy Quick question for you - click here
The ability to multitask, typing and shifting between open windows and applications as you speak with callers, do research, complete paperwork, etc. * Quick question for you - click here
The skill to use common software such as MS Office, especially Word, and perform tasks such as Cut and Paste, and Copy

A strong customer service orientation and commitment to providing outstanding service
Strong attention to detail
Professionalism and a strong work ethic; the ability to excel and meet your responsibilities in a highly structured environment
The ability to work independently and as a reliable team member
An upbeat attitude with a coachable persona
Inquisitiveness and the desire to continually learn and improve
Additionally, to meet the basic requirement for this role you
must
be legally authorized to work permanently in the U.S. for any employer without requiring a Visa transfer or Visa sponsorship.
* As part of the hiring process, you will take a basic computer skills test.
The Role
Opportunity Snapshot
Reporting to the Non-Clinical Supervisor, as Intake Representative, you will be responsible for processing requests for service, speaking with physicians offices and sites where the procedures will take place, capturing and entering the necessary demographic and medical information, building the case file, providing status updates, and serving as a liaison to the clinical staff when needed. You will serve as the main point of contact for inbound callers as you manage their needs from start to finish.
Daily Execution
Upon joining us, attend 5 weeks of in-depth training to help ensure your success.
Quick question for you - click here

After training, Workforce Management will assign you an 8.5 hour shift, according to the call center needs. A mentor and supervisor will guide your performance as you take inbound calls from doctor's offices and/or diagnostic centers, through a computer generated system. Your individual scorecard will measure your success on calls based on established metrics: average handle time, adhering to your work schedule, quality: 1st call resolution and customer experience, and call center protocols (Ulysses). The ability to multitask will be key, as you will be listening, entering information, completing Internet searches, and asking probing questions.
You will work a set shift and take non-clinical inbound calls throughout your shift. You will provide status updates, as requested, and process certification requests for radiological services, and focus on screening processes that do not require formal clinical review or judgment. You will gather information which you will enter into our system, as well as research and efficiently resolve any pre-certification issues.
Specifically, you will:
Process Review of Service Request notifications that do not require certification of medical necessity
Promptly transfer Review of Services calls which cannot be completed via the formal script to a Clinical First Level Reviewer or Medical Reviewer for completion
Work with sites, patients and physician's offices to investigate and resolve any pre-certification questions or concerns and preempt unanticipated issues
Provide professional, courteous and accurate information to all callers
Maintain a working knowledge of all process and procedure changes, CPT (Current Procedural Terminology) coding and updated training materials
Note: this description is intended to give you a general overview of the position and is not an exhaustive listing of duties and responsibilities.
Why eviCore
Outstanding training
Upon joining us, you will go through five weeks of classroom and floor training with a group of other Intake Representatives. You'll have the opportunity to learn the eviCore healthcare way, our processes, procedures and systems, medical terminology, various health plans and much more. You will enjoy a "Learning Lab" environment where you will do a good deal of role-playing, take mock calls, use online resources, observe and more. Additionally, you'll have more training once you have worked in the role for a while, and ongoing training as needed.
Career advancement
At eviCore, as part of our Total Rewards Program, we provide a clear path of advancement that allows strong performers to chart a career with nearly unlimited growth potential. You're not spending your time simply working a job; you can actively build a career. The chart pictured right shows the many paths you can take.
Excellent compensation
In addition to a competitive wage, eviCore healthcare offers a comprehensive benefits package including health insurance, dental coverage, a 401(k), tuition reimbursement, paid vacations and holidays, life insurance coverage and the tools and equipment necessary to perform your role from your home office (telephone and computer).
Performance-based environment
We promote a performance-based, not seniority-based, work environment. That means you can earn perks, rather than waiting for someone else to leave before you can excel. For example, outstanding candidates in some call center locations can earn the opportunity to work virtually from a home office. Others have earned a 4/10 work schedule (4 days per week / 10 hours per day).
Not your typical call center role
This is not collections, not retail, not banking...this is a medical role. While other call center roles are perfectly viable careers, there's a different feeling in this industry. You can feel good knowing that your efforts will help deliver medical benefit solutions that will benefit everyone: payers, providers and patients alike. Your efforts will impact lives day after day. Your work will matter!
High growth company
We're experiencing strong growth, both organic and through mergers and acquisitions. For example, recently the complementary talents, technologies and tactical acumen of CareCore and MedSolutions unified to become eviCore healthcare. For more information on our growth, please see the
About eviCore
tab. That growth will continue moving forward, generating even more opportunities.
Critical mission
eviCore healthcare is committed to making sure that every patient receives exactly the health care they need. We know that every patient has a unique condition and medical history, so we manage tests and/or treatments to make sure they meet the latest standards of care to deliver the best possible outcomes. As a result, we help to eliminate the cost and time wasted with inappropriate tests or treatments while ensuring the highest levels of patient safety. You can feel pride knowing that your efforts will help both your patients and the ailing healthcare system.
About Us
eviCore healthcare was founded in 1994 to provide comprehensive, customized programs to improve the use of diagnostic imaging and enhance the quality of care. eviCore healthcare's innovative and quality-driven approach to radiology utilization management has made it the country's fastest-growing outpatient diagnostic imaging utilization management services provider.
eviCore healthcare ensures quality healthcare by embracing the latest standards of care, deploying evidence-based models and managing treatment and diagnosis to achieve the best possible outcomes. We do this by using state-of-the-art technology and evidence-based criteria. All eviCore programs improve quality, streamline patient care and reduce cost. As our growing client list includes some of America's most popular and trusted health plans, eviCore healthcare currently manages treatment affecting more than 30 million people.